Do you have a drain blockage, blocked toilet or clogged sink? If so, you're not alone.
A clogged or blocked drain is a common plumbing problem that can be caused by a variety of things, including hair, grease, food particles, and even toilet paper.
If you're having trouble with a clogged drain, don't try to fix it yourself. Instead, call a professional plumber to help you. Professional plumbers have the right tools and experience needed to get the job done quickly and efficiently.
If you're looking for a reliable plumber to help you with your clogged drain, contact our expert plumbers Blue Mountains. We are here to help with your blocked drains. With our highly trained drain cleaning professionals and specialised equipment, such as drain snakes used to unblock drains, we can get your pipes flowing again. We offer comprehensive drain cleaning services that will get your drains flowing freely again in no time.
Blocked Sewer Drain

We can help
Blocked sewer drains are an absolute nuisance. Not only are they smelly and unsightly, but they can also lead to serious health problems. Sewer systems in residential and commercial buildings are critical to the functioning of plumbing systems, as they carry waste from the building to municipal pipes. When a sewer system becomes blocked, it can prevent the efficient removal of waste. Blocked sewer drains can also cause wastewater to seep out of sewer pipes, polluting clean water sources.
If you're having trouble with a blocked drain, don't try to fix it yourself – call a professional plumber instead. At Ironclad Plumbing, we offer a comprehensive sewer cleaning service. Ironclad Plumbing's experienced blocked drain plumbers in the Blue Mountains will assess the situation for you and develop a plan of action.
Toilet Drain Blockage

We can fix it
The toilet is one of the most important fixtures in your home and workplace. A poorly functioning toilet can lead to discomfort and frustration and a generally unsanitary environment. Neglecting to maintain the toilet can also lead to constant leaks and high utility bills.
If you find that your toilet has become blocked, don't wait to contact the team at Ironclad Plumbing in the Blue Mountains. A broken or blocked toilet can quickly become a major inconvenience, and it's always better to act before the toilet drain blockage worsens.
Sink drain blockages

We can Unblock it
A blocked sink can wreak havoc in your home. A blockage can make it impossible to wash dishes, and even use the dishwasher. Your kitchen sink is used every day – so a blockage will be very inconvenient. And a blocked sink can lead to embarrassing odours and a big mess. Our plumbers at Ironclad Plumbing will clear your drain blockages thanks to our high-quality, licenced workmanship.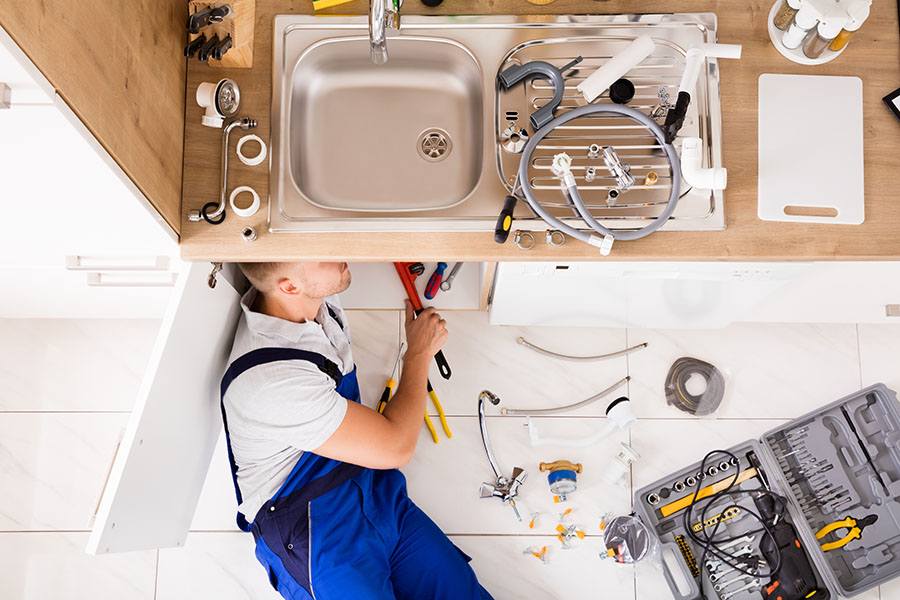 Blocked drains

What causes it
Blocked drains are a plumbing problem that requires immediate attention. One of the worst things that can happen is a lingering smell coming from your toilet or sink. We will look at the leading causes of blocked drains to help you avoid them.
Blocked drains can be caused by the accumulation of small objects such as toys, food, or soap. At first, these items may not clog the drain completely. However, over time, the things continue to accumulate and block the drain, preventing water from flowing smoothly.
Improper disposal of sanitary items
What ends up in your toilet – and what does not – can affect your plumbing. Toilet paper, for example, can be flushed, but you should never dispose of other materials like facial wipes and sanitary items this way. If these items clog up the drain, it can cause severe blocked drains.
Tree roots are the most common cause of blockage in water and sewage lines. They are more likely to invade the pipes of older homes, but they can attack any system. You can repair damaged pipes without disturbing them too much with pipe lining. This process is designed to help repair earthenware pipework and cracked PVC pipes.
One very common cause for blocked drains is food and soap residue. As dirty water flows down the pipe, fatty and grimy substances solidify and accumulate on the pipe walls due to their sticky properties. With regular hot water or mild drain cleaner, you can prevent clogs.
The build-up of hair can be a significant problem for homeowners. If you shave in the shower and then rinse it down the drain, this can cause your blocked drains. It accumulates and starts clogging the drain. You can use several products to catch hair before it goes down the drain, such as a filter.
Scraping food scraps off dishes before washing them is a helpful way to prevent blocked drains. Food scraps like meat can form extremely fibrous pieces that can wrap around anything already in your pipes. Pasta, noodles, and rice become slimy when they contact water, and then collect in your pipes. Regardless of how much water you pour down your sink drain, these foods can still cause problematic blockages.

Blocked drains

signs of a blocked drain
A blocked drain can cause stress and even lead to hefty repair costs. But it's never too late to prevent plumbing issues with your pipes and drains. If you see any of these signs, don't ignore them!
When a drain clogs, it usually gives off an unpleasant odour. This usually happens because of food debris stuck in the pipes. As the food decomposes, it creates an unpleasant odour that worsens when the tap is turned on.
When sludge accumulates, the flow of water down the drain is impeded. As a result, the volume of the drain decreases, and the water drains more slowly. Eventually, this leads to a complete blockage.
When your drains gurgle, it is usually a sign of blocked drains. The trapped air in the drain escapes when you run the water, causing strange popping and gurgling sounds.
Looking for a

blocked drain plumber?
What are your options when you have a blocked drain emergency? It's time to call a reliable, licenced plumbing specialist fast. Blocked drains are not only a nuisance, but they can also pose a major health risk to homes and businesses. Our skilled team at Ironclad Plumbing is available 24/7 to clear blocked drains, including outdoor drains.
Ironclad Plumbing is an experienced, professional plumber who has the tools to get the job done quickly. In some cases, we can clear blocked drains with high-pressure water jets. We also offer pipe relining services for Blue Mountains' residents, also Penrith and Richmond. If your plumbing problem is hard to find, we can use a camera to find the exact problem area and inspect stubborn blockages.
Video and CCTV Inspections
A plumbing CCTV camera is a small, specialized camera that is used to take video images inside plumbing drains. The camera is inserted into the drain through a plumbing access point, and the operator can then view the video feed on a monitor in order to locate the blockage. This process is typically much faster and more efficient than traditional methods of drain cleaning, such as snaking or jetting. Additionally, it can be used to identify other potential problems, such as cracks or leaks in the plumbing system. As a result, plumbing CCTV cameras can save both time and money by allowing plumbers to quickly and effectively locate and repair drains.
Hydro Jetting Technique is a plumbing method in which a plumber places a a hose within the sewer pipe and sprays water under high pressure to clean it out. This method is effective in removing blockages, such as tree roots, grease, and sludge buildup. Hydro Jetting Technique can also be used to remove deposits that have built up on the walls of the sewer pipe, restoring it to its original condition. This method is safe and will not damage your plumbing system. Contact a licensed plumbing professional to have this done.
Plumbing Services

We Offer